Make a donation to the Sanctuary – by doing so you help make it possible to achieve our goal – returning nature to the Nelson Tasman region, and in particular to bring kiwi back to the region.
We've partnered with Jens Hansen in a long-term sponsorship arrangement which will see a percentage of proceeds from the iconic Golden Kiwi jewellery line going into the Jens Hansen Kiwi Establishment Fund to support the re-introduction of kiwi into the fenced sanctuary.
The Jens Hansen Golden Kiwi pendant was created in 2015 as a tribute to New Zealanders' affection for their national bird. The first pendant made was given as a gift from Nelson City to the Duchess of Cornwall when she visited Nelson with the Prince of Wales in November that year.
Halfdan Hansen said the fund was created when he was looking for a regional conservation project to support, in particular kiwi.
"We approached the Sanctuary and found out they were keen to introduce kiwi here, so we started to talk about how we could help. We love our Golden Kiwi pendant and the Silver Kiwi ring and could feel a natural connection between these pieces of jewellery and the vision of the Sanctuary to introduce kiwi to Nelson. The Golden Kiwi pendant is one of our most popular pieces – it symbolises everything people love about New Zealand and our beautiful native birds," says Halfdan. "That was why we felt it was the perfect gift for the Duchess of Cornwall, to mark her visit here in 2015. Given her and Prince Charles' interest in conservation, we have written to her to let her know about the collaboration with the Sanctuary.
Ru Collin, Chief Executive of the Brook Waimārama Sanctuary, says that the Jens Hansen Kiwi Establishment Fund will enable some base funding to build up, as bringing kiwi to Nelson will take a few years to come to fruition.
"It could be three to four years before we can bring kiwi into the Sanctuary," says Ru. "We will consult with iwi and wait for birds to become available through the Department of Conservation. Having a project establishment fund will enable us to prepare for their introduction."
The most likely candidate for release into the Sanctuary is the little spotted kiwi, which is endemic throughout New Zealand, so there is no issue with the genetics of north and south island species.
In preparation, the Sanctuary Trust is working on ensuring the native habitat within the Sanctuary fence is ideal for kiwi to thrive.
"We could easily support 100 pairs here eventually," says Ru. "The Sanctuary is in great shape and regenerating well."
The Sanctuary is now free of grazing pests like goats, deer, possums and pigs, all of which were damaging the bush and preventing new regeneration, and the removal of predatory pests like rats and stoats means that native birds can breed in safety within the Sanctuary's fenced area.
"The work that the Sanctuary is doing to bring nature back to Nelson is so important," says Halfdan. "Many of our kiwi pendants wing their way overseas, often to Kiwis living in the far-flung corners of the world where they treasure something that reminds them of home. So it's extra special to us that we can use this fund to help bring the amazing birds back to their own native home here in Nelson."
Halfdan says he encourages other businesses to contribute to the fund, so that the Sanctuary is ready, when the kiwi are ready to come.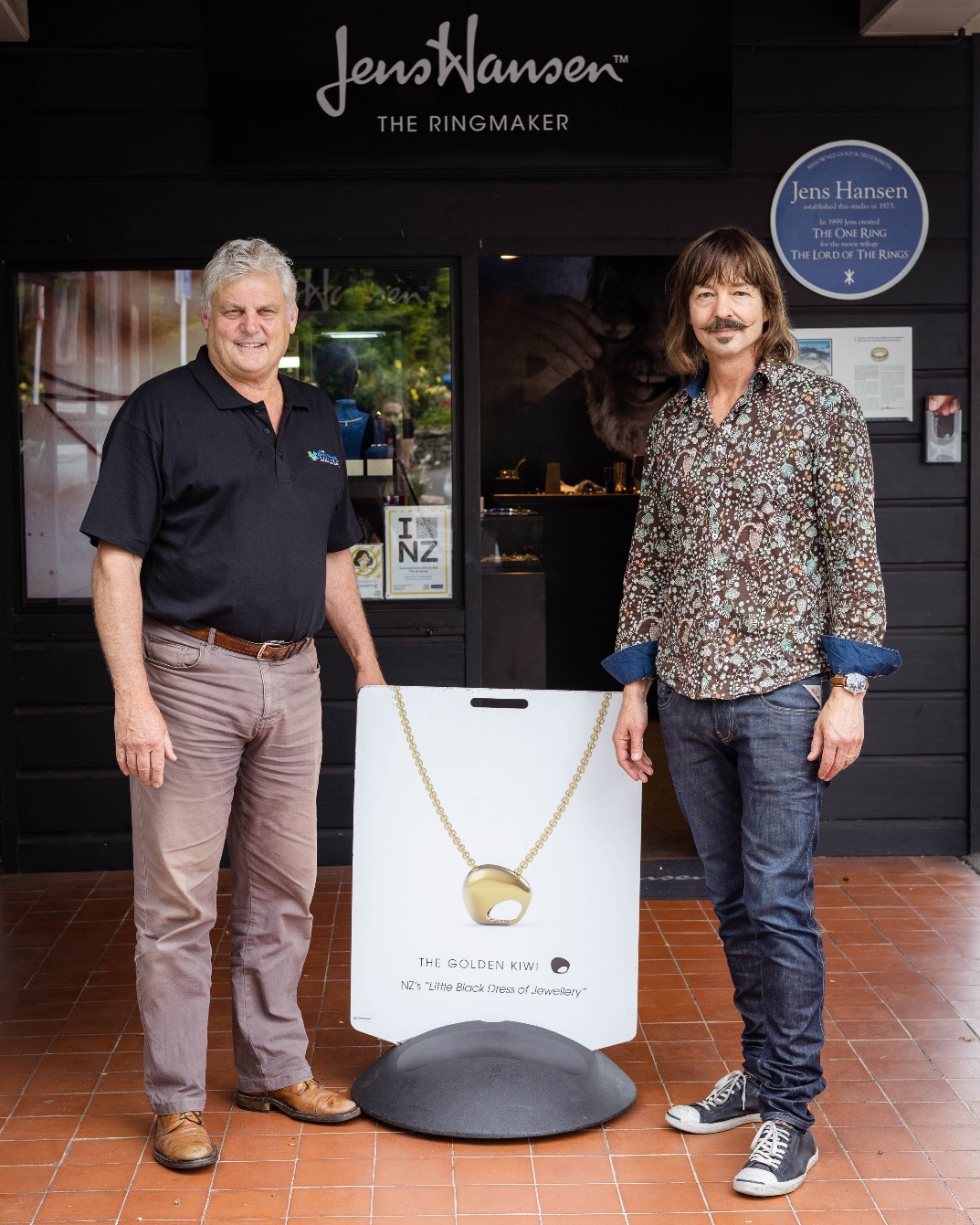 HOW YOUR DONATION WILL HELP
Your donation will help us build a fund to bring our long term objective to fruition, we want to return kiwi to the Nelson/Tasman region
All donations of $5 or more are tax deductible, click here to learn more about SuperGenerous.
Any queries or if you would like to donate in kind, feel free to contact us.
We profile grants, sponsorships, donations in kind etc. in our quarterly eNews newsletter (available here on the website).
Keep up-to-date and stay informed – follow us on our Facebook page.